PCR Test Saliva
PCR Test Saliva detects if there is a COVID-19 infection with a simple saliva sample with the mosts confidentiality and highest level of reliability.
This test is intended for the qualitative detection of SARS-CoV-2 nucleic acid in saliva sample and allows to know if the patient is infected by coronavirus with the same reliability as with the usual nasopharyngeal exudate (99%).
A positive result confirms the detection of the virus. A negative result does not always mean absence of the virus as it depends on the viral load of the sample. If a negative result is obtained from a patient with a high suspicion of SARS-CoV-2 virus infection, it should be confirmed with a new test.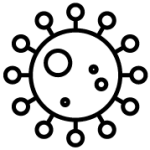 Methodology
A new way: simpler, more comfortable and suitable for all ages.
We will send youeverything  what you need to your home, with the instructions for use.
You will need to deposit a saliva sample (without mucus or sputum) in an empty tube. Subsequently, add a preservative solution, close the sample and notify us to collect the test.
24/48 hours of the reception in our Laboratory you will receive an SMS to consult your results in  PRIVATE AREA.

Recommendations
You should not eat, smoke, chew gum, or drink anything for at least 30 minutes beforehand.
You should rinse your mouth with water and wait for 10 minutes.
Massage your cheeks and rub your tongue on the roof of your mouth to stimulate the secretion of saliva.
Price:130€
Sample: saliva
Delivery: 24 / 48h after reception of sample in Laboratory.