Liposcale
It's an advanced lipoprotein test based on Nuclear Magnetic Resonance (NMR) that determines the size and concentration of lipids (cholesterol and triglycerides) and the number of particles of the main classes of lipoproteins VLDL, LDL and HDL.

Which patients is it most useful for?
People with a personal and/or family history of CVD at an early age.
People with LDL-C in a healthy range who may have a higher risk of developing CVD.
People with diabetes mellitus type 2, metabolic syndrome, obesity and those treated with statins.
To control the efficacy of the treatment.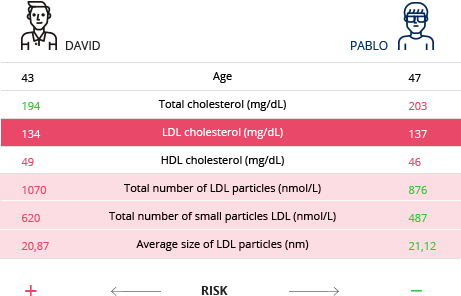 120€
Sample:
Serum or plasma
Volume: 0,60 - 1ml
Sample storage:
Freeze if > 24h // 5+/-3oC
Turnaround time: 14 working days
(May vary)
It analyses the risk of developing cardiovascular disease (CVD), even when LDL-C levels are healthy and there are no typical cardiac risk factors.
---
50% of heart attacks and other cardiovascular diseases occur in patients with normal LDL cholesterol levels. People with a high number of small, dense particles have a three times higher risk of coronary heart disease, regardless of whether the LDL-C is within normal limits.